For the People, by the Poet, (FP by the P) is a column written by local street poet Rashaad Thomas that highlights, celebrates and supports local poets in Arizona cities. Poets outside academia often feel excluded from the dialogue that influences diverse communities using new and innovative methods, and this column aims to highlight some of the poets working "on the ground" here in Arizona. 
I first met Jesse Sensibar at Arizona State University's writing conference, "Desert Sky, Rising Stars," a few years ago.  The conference was really overwhelming because the attendees were predominantly white. I always expect a lot of white folks at academic conferences, but I seem to still always be surprised. Usually, you can count the number of people of color on two hands. Each person of color represents a different community. I say to myself, "Well, at least they met their quota."  Beyond that discomfort, I want to address our personal experiences echoed by our personal experiences.
I feel liberated when I meet a person who has experienced life similar to mine. They can express how it is to live in the gutter and survive. Suddenly, I don't feel alone. During one workshop at the conference, a stocky white man stood up.  He had a black and silver goatee, and each strand dripped from his chin towards the floor, stopping in midair.  Silver rings with jade eyes peered at me from eight of his fingers.  Looking at him, I made believe I knew his life story. I think, he's a truck driver with well-traveled poems swaying in blues. He was on his last stop before arriving to his destination, Los Angeles, California.  
He read a very honest and gritty poem.  After he finished reading the poem, I felt like I was chewing on sweet and sour gravel. Each stanza was a short story roped together. I knew he was a member of my tribe of outcasts. My friends and I bumped into him between workshops and expressed how much we liked and related to his poem. Towards the end of our brief conversation we exchanged names. Jesse Sensibar was the rising star, in the desert night.
Jesse Sensibar lives in Flagstaff by way of Southside Chicago, Illinois. Jesse is a writer, truck driver, and an English teacher at Northern Arizona University. Jesse is the co-organizer of the Northern Arizona Book Festival with James Jay. He and James also created the award winning reading series, "Narrow Chimney Reading Series," where poets from all over Arizona travel to Flagstaff read their work at Uptown Pub house. 
Last year Jesse invited me to read at the "Narrow Chimney Reading Series." I entered the door, nervous because I'd heard there aren't many people of color in Flagstaff. I sat down and my knees were shaking. I got a glass of water and James gave me a few words of encouragement to calm my nerves. Then Jesse walked up to me and embraced hands. From our hand shake my heartbeat slowed down. He reminded me that I wasn't alone. Jesse is a socially conscious person and writer, and he encouraged me sharing poems of the Black experience.
Very few poets can make jagged edges feel smooth. Jesse is a very talented at telling difficult stories about tough topics, but he also takes care of his readers by gently placing lyrical lines.  
Wedding of the Junk Dealer's Daughter (2016)
In a poly-rayon blend with fancy stitching
shiny black diamond snap-buttons – six to a sleeve.
Black leather cowboy cut jacket. New black jeans and
I hope I remind somebody of the junkie stick-up man
from Drugstore Cowboy.
Fitted perfect for a Portland wedding.
Jesse's poetry encourages academics to enter his world. He allows them to conduct their research, but they wouldn't be able to appropriate his colorful narratives and characters. Linguists would be unable to fully decipher the metaphors in each story because they may be unable to relate.  They will have to return and live there in the gutter and experience it for themselves. Even that is a risk, because once there, they may never return to the white tower. For example, the line in his poem, "In the Eighties (1993)"
Opening line:  I separated burned bodies from charred helicopter seats and put pieces of seat plastic body bags.
Closing line:  I swapped dope for Harold's Fried Chicken through barred basement doors.
Academics describe the gutter as ugly. Writers like Jesse and I see the gutter as beautiful place where we bond through art. We use art to speak up the silenced voices from the gutter.  Jesse may look like most "Desert Nights, Rising Stars" attendees, but I came to see him as a brother.
---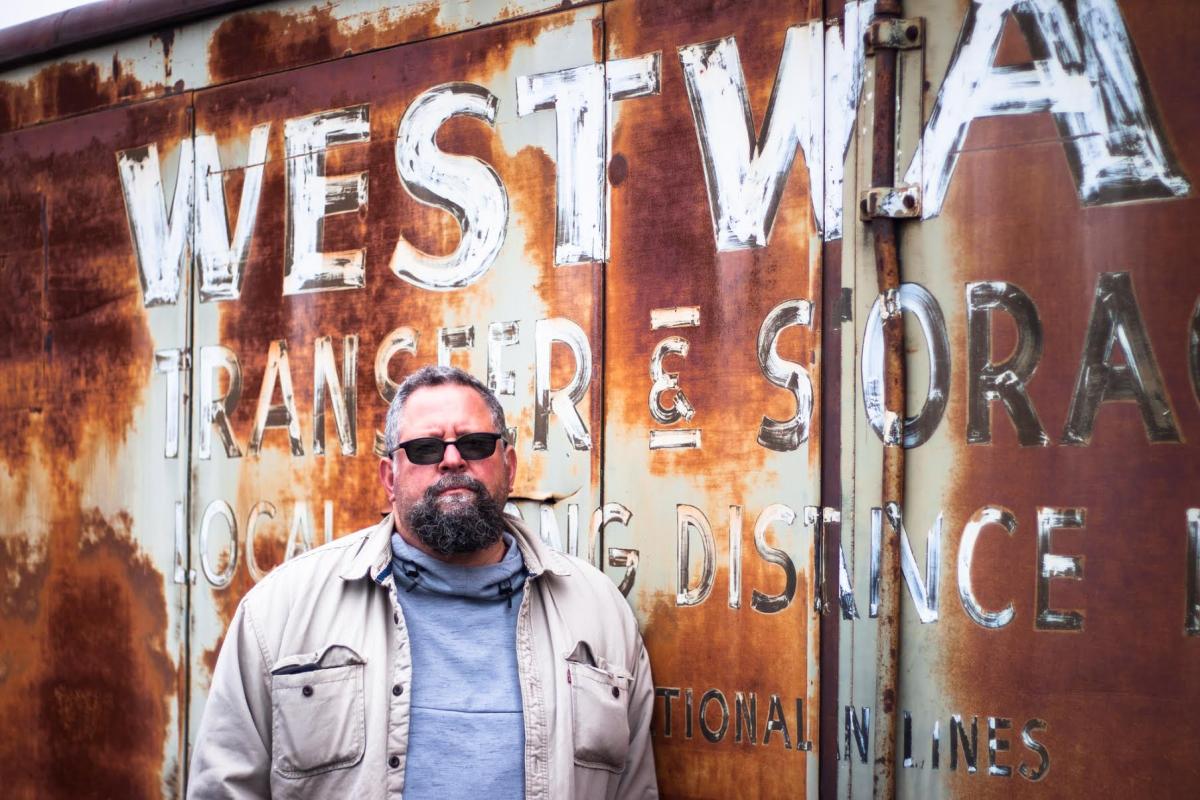 Jesse Sensibar's work has appeared in such places as The Tishman Review, Stoneboat Journal, and Waxwing. Jesse's first full-length work, Blood in the Asphalt, is forthcoming from Tolsun Books. You can find him at jessesensibar.com.