As we anticipate re-opening the Poetry Center library in mid August, I particularly look forward to offering physical, in-person exhibits again. We think of our library exhibition program (now both physical and digital) as a way to help users get a better sense of what we have, and we do this by focusing on the work of individual poets, schools of poetry, poems on particular themes, by particular presses, in books that take particular forms, and more. Our exhibits aim to get viewers excited about the full scope of our collection, and we hope that excitement will encourage further use of those items in the future.
If you've ever seen one of our physical exhibits, you know that we display books in glass cases, both to create a cohesive experience and to best protect the books. The glass poses a dilemma: We want you to enjoy and be excited about these books, but we can only display a page or two from the book at a time, and the glass keeps viewers at a distance. To help bridge this gap, our exhibits often incorporate interactive elements—maybe you visited the book folding station at our Folded Books exhibit or took home a Broadsided Press broadside from Another Person's Magic: Collaborative Books. To help gather more ideas and further my thinking, I put together a panel for the 2020 virtual Arizona Library Association conference with fellow library and archives workers who had actively incorporated innovative, interactive elements into past exhibits.
The four exhibits discussed in this panel—two from the University of Arizona Libraries Special Collections and two from here at the Poetry Center—each built connections between viewers and materials through non-traditional means, inviting sensory experiences, putting unexpected materials into conversation with one another, and even taking representations of materials to non-library spaces. Here's a quick highlight from each exhibit:
Moon, curated by Molly Stothert-Maurer at Special Collections, celebrated the 50th anniversary of the Apollo 11 Moon landing and featured a precision hemisphere—a three-hundred pound metal artifact actually used by scientists to craft the Moon maps used for the lunar landings. The precision hemisphere was loaned from the Lunar and Planetary Laboratory.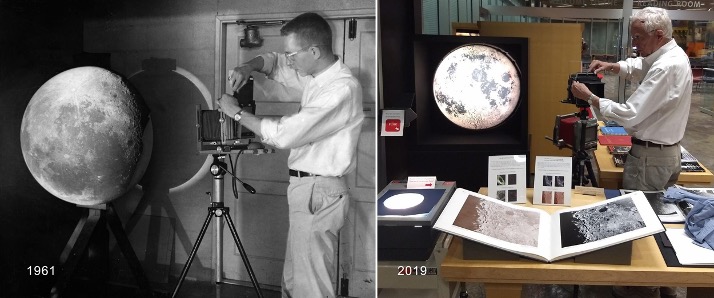 The Life and Legacy of the USS Arizona, curated by Trent Purdy at Special Collections, led to a unique connection with university athletics: Images from primary source materials in the exhibit were incorporated into football and basketball jerseys worn to commemorate the 75th anniversary of the bombing of Pearl Harbor.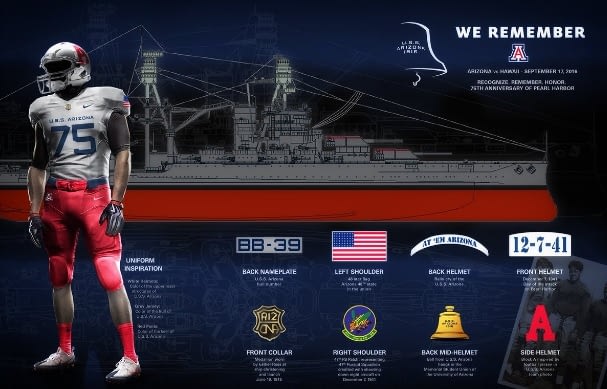 Come to the Table, curated by our own Leela Denver in collaboration with Wren Awry, kicked off with an opening reception at which attendees were invited to eat a poem—in the form of food and drink inspired by poems from the exhibit.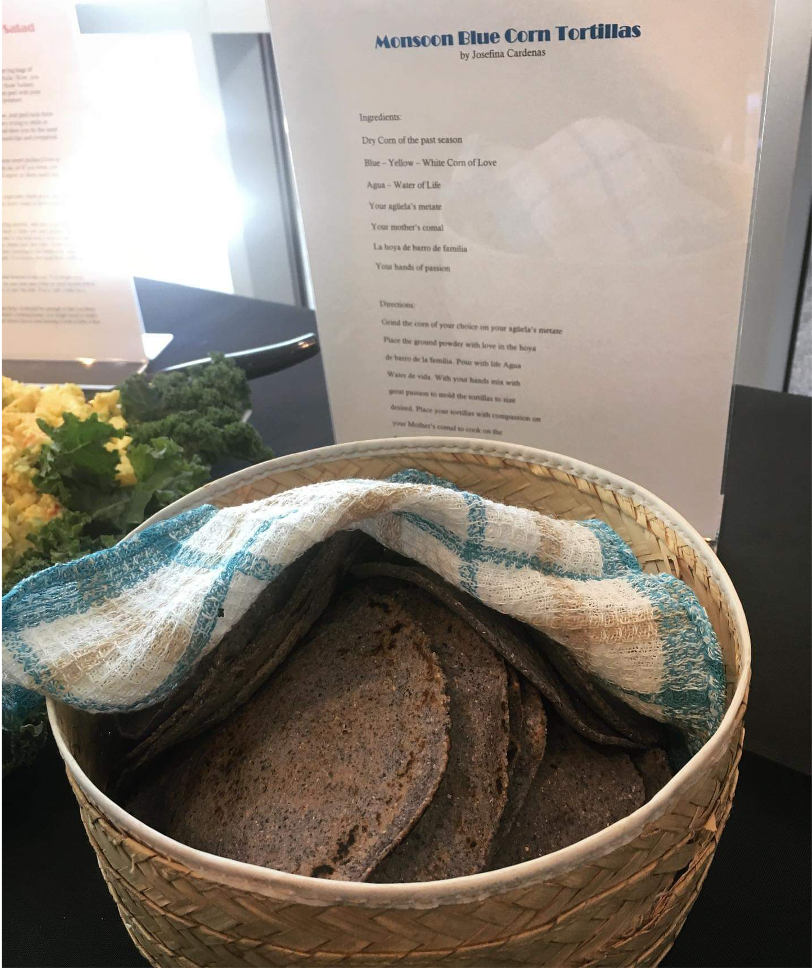 The Poetry of Spaceflight, which I curated for the Poetry Center, incorporated large, vibrant artwork by space artist Robert McCall, putting McCall's images in conversation with contemporary poems and poets. McCall's paintings were loaned to us by the University of Arizona Archive of Visual Arts.
We can't wait to welcome you back to the library in August, and we hope you will join us to enjoy books under glass and beyond.