We're delighted to introduce Even When We Bend, the 2021 edition of our 6-12th grade Writing the Community anthology. Below you'll find the anthology's introduction, by teaching artist Teré Fowler-Chapman, and three student poems from the book.
Introduction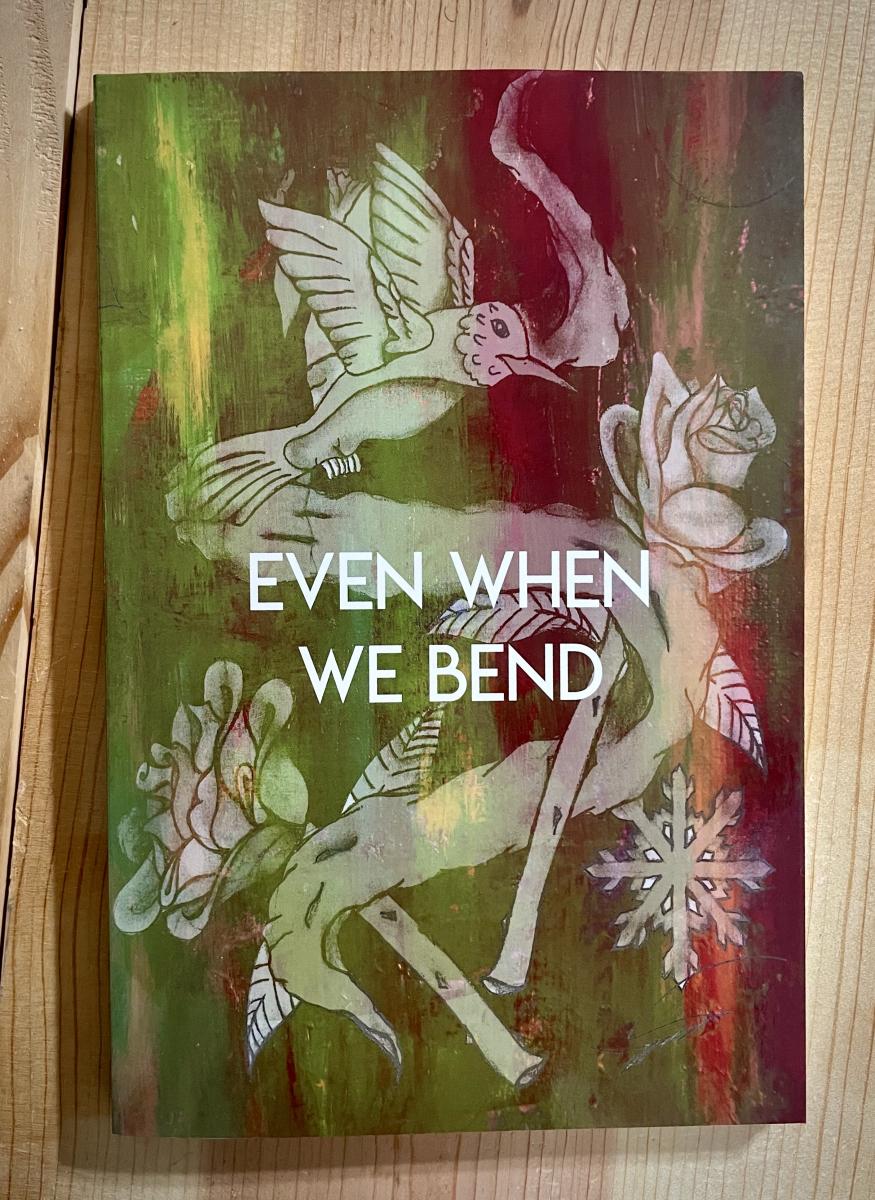 What a year.
When I think about this residency, I have to go back to the first Writing the Community residency during the pandemic in Fall 2020. I was both an essential educator and a teaching artist. My students were both a catalyst and an anchor. I can only hope I was a fraction of that for them.
I say this because it takes a certain resilience for young ones to open their eyes to a screen and demand to be taught. It's a demand because they could also protest poems. They could protest these makeshift lesson plans that were never really designed to meet them in this manner. They could protest the quality of school during these times. In a way, their little faces via screen felt like that, a protest. They did what most youths do, digest what we give them and make something worthy of chewing on. The students in my residency often questioned why I was wearing a mask, while my face-to-face students questioned when I would be back. Throughout my years with this residency, I have always juggled a delicate balance of being both an educator and a teaching artist. During this pandemic, a familiar juggle of students engaging with one another became unrecognizably challenging at times. To be honest, I underestimated the limitations and the lack of structure in this new virtual realm. The only thing that was normal was the quality of these students' poems: as always, they were clear, unexpected, and creative.
I want to hold space for my mask-to-mask students who aren't in this anthology yet. They are a classroom of kids with autism. They are here in the lesson plans and the sacrificial balance of me as one of their teachers. I want to name the things they taught me: life is not that serious, "No" is a valid word, poetry is a body that needs support, and most importantly, you are never too old to jump in a good puddle of rain. I often ask, "How free-styled does a poem have to be to feel liberated?" I, myself, tend to celebrate those youth who break and bend boundaries of prompts. I lean into poems that are rich with a familiar cadence or respond deeply to words that mirror the beginning journey of my own writing, and this is a bias. My mask-to-mask students' writing, without realizing it, was preparing me for the unfathomable. They needed additional line-for-line prompts. Once they were offered this community-based supported freedom on-page, their poems did what most poems do--grew wings and flew off the page. I thought about the kids up to this point whose IEPs in my teaching artistry went undetected. I vowed never to make assumptions about them again. I promised to leave space in my work as a cultural worker by offering a more inclusive and diverse approach to prompt-writing.
Their everyday teachings are what I took to the students at CAPE High School this year. I remember looking at Jonna, a teacher at CAPE, and asking how. We have been doing this work together for years now. This year was definitely different. She was quick to preface me on their low morale in the jail. That witty behavior is often disguised as callouts secretly requesting someone to call them in. I questioned my capabilities. Am I capable of connecting with students whose classroom is a packet without staples? Is it inappropriate to ask students, whose unrealistic space to social distance while contemplating years-long sentencing, to write poems? After touching base with a fellow colleague in the residency, Lisa O'Neill, I took to creating an equitable approach. I gave three options: some wrote with supported line structure, others wrote freely, others wrote from a single-lined prompt. Regardless, they were all welcomed to write me letters. It worked.
It's important to say how the poems are delivered, both poetically and physically speaking. On the page, the poems were unique with their dances and mood swings, and life. Off the page, I would drive the reviewed poems to the master control center at CAPE almost every week. Jonna would grab the poems for the students and drive the most recently written poems back to my house. I would have three days to grade them, write a new lesson, email the lesson, and drive the poems back. A few days later, what do you think would happen? Yep, I would see Jonna's car parked outside or just a fresh batch of poems delivered like an old-school milk jar on my front porch.
This is what teaching is like in these times. This is what this residency is like in these times. This virus corners these students, and they chose to write. This virus defeats their self-esteem, and they decide to write. In the midst of all this mayhem, the youth are the greatest teachers of strength. These 6-12th graders chose to publish poems. The poems will meet you face-to-face, maskless. These poems are free in spite of some of their lack of freedom. These poems are the most important poems published right now. Right now, to be a youth, and a writer, and a screen away, and without a screen, and to read poems, and to write some too, and to be published, and snap into a muted microphone is the bravest response to adversity I have ever witnessed.
I want to say this: this isn't activism. This isn't going above and beyond. This is just the job when you sign up to teach kids about the very key that set you free. You also sign up to meet them where they are both poetically, prophetically, and physically. They could be anywhere, truthfully, during any time, and they are here…deciding to write.
This anthology is small and mighty. It is a futuristic fragile self-examination. It's a rare insight into the perspective of youthhood, what they choose to keep, what they try and let go of, and more. It is and it is and it is, one page at a time.
Teré Fowler-Chapman
Teaching Artist
Student Poems
When I Had No
When I had no paint, I colored the sky with imagination.
When I had no roof, I made the sky my roof.
When the forest disappeared, I made trees out of thought.
When I had no place to go, I used my mind to go everywhere.
When everything was dark, I made the darkness my light.
When I had no alphabet, I made every language my language.
When I had no ocean, I swam in fire.
When I had no food, people became my food.
When I had no hope, God became my hope.
When I lost my power, faith became my source of energy.
When I had no warmth, I used a blanket to cover me.
When I had no school, I made myself teach me.
When the music stopped playing, I danced to the sound of the air.
-Uriah M.
The Boy Who
I am a boy who's stuck in life.
I am a boy who's mad.
I am a boy who's sad.
I am a boy who makes mistakes.
Let America be America again
Let people be people again.
I am the kid that creates crime.
I am the kid who was overcome by drugs.
I am the boy who was taken by the police.
I am the boy who lives in poverty.
-Victor R.B.
"The struggle"
Its beauty in the struggle, ugliness in the success
The struggles you go through will be worth it in the end.
Its beauty in the struggle, ugliness in the success
Life will be hard.
Its beauty in the struggle, ugliness in the success
The end will overcome everything.
Its beauty in the struggle, ugliness in the success
I will keep moving no time to take a rest.
Its beauty in the struggle, ugliness in the success
Motivation. Beauty. Realization. Comfort.
Its beauty in the struggle, ugliness in the success
-Sammantha Charron
Even When We Bend is dedicated to the memory of Victor R.B..
If you're a classroom teacher or community educator interested in applying for a Writing the Community residency, you can do so here.