Are you looking for a feel-good project you can work on from home? We have a suggestion: join us online for this year's Art + Feminism Wikipedia editing campaign! Everyone is welcome, and anyone can edit Wikipedia. We hope you'll give it a try!
Throughout the month of April, the Poetry Center is partnering with CATalyst Studios, the Department of History, the Public History Collaborative, the Center for Creative Photography, and community members to improve coverage of womxn, non-binary, and femme-identified people and the arts on Wikipedia. Whether you've editing Wikipedia before or not, we can provide training material, help you troubleshoot, and brainstorm content ideas. Join us!
Wikipedia is one of the most widely used information sources in the world, and anyone with an Internet connection can contribute. However, recent research shows that only about 16% of Wikipedia's contributors worldwide identify as female. This translates to a gender bias in Wikipedia's coverage: the encyclopedia has fewer and less well-developed articles on women than it does on men. 
Art + Feminism aims to change that by teaching people how to edit Wikipedia. 
This spring's Tucson Art + Feminism editing campaign began on Friday, March 27, when we met with new and experienced editors online for a kick-off event beginning a month of Wikipedia edits. Our virtual edit-a-thon was attended by folks from Tucson and beyond--one participant checked in from Lima, Peru!
Amanda Meeks of CATalyst Studios got us started with a quick introduction to editing Wikipedia, and other campus colleagues gave lightning talks related to special topics in Wikipedia editing. We got guidance on uploading images, contributing to articles about living persons, and the "notability" guideline.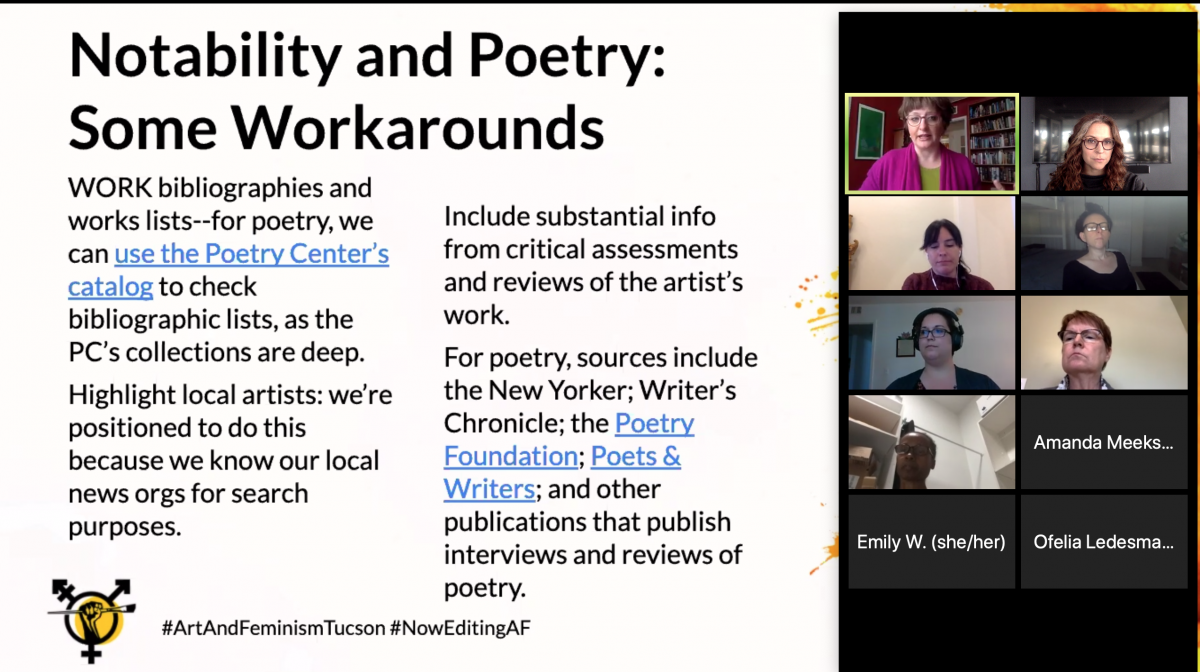 Screenshot by Patri Hadad; slide authored by Sarah Kortemeier. 
We also received guidance on navigating whiteness and colonization on Wikipedia and in the information landscape.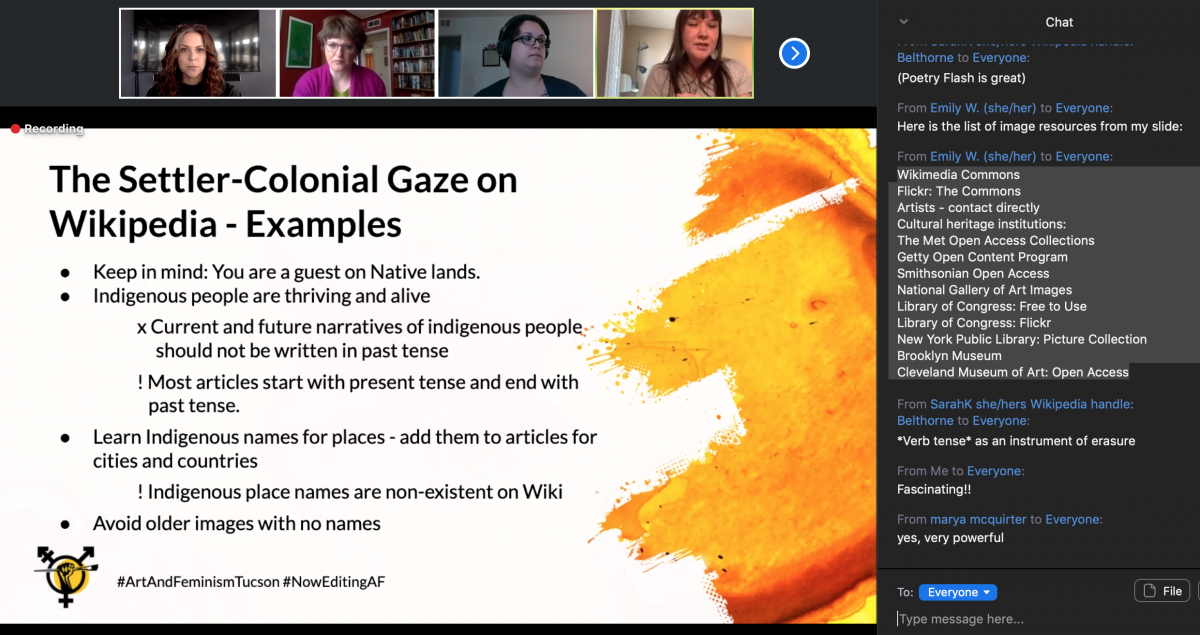 Screenshot by Patri Hadad; slide authored by Chantal Jung. 
Interested in learning more? The Zoom video of the kickoff event is available in our Event Guide. On that page, you can also find Wikipedia tutorials, lists of "what to work on," and office hours (for virtual chats and Wikipedia editing help). We'll be here all month: join us! Sign on to the Tucson Art + Feminism 2020 campaign and edit with us throughout the month of April. 
Be Bold! Be well! We'll see you online.