In the "Gezellige Poëzie" column, Laura Wetherington reports on poetry communities in Europe: festivals, independent bookshops and reading series, and innovations on and off the page. Read about the column title here.
Dom Literatury w Łódźi (The Łódź Literature House)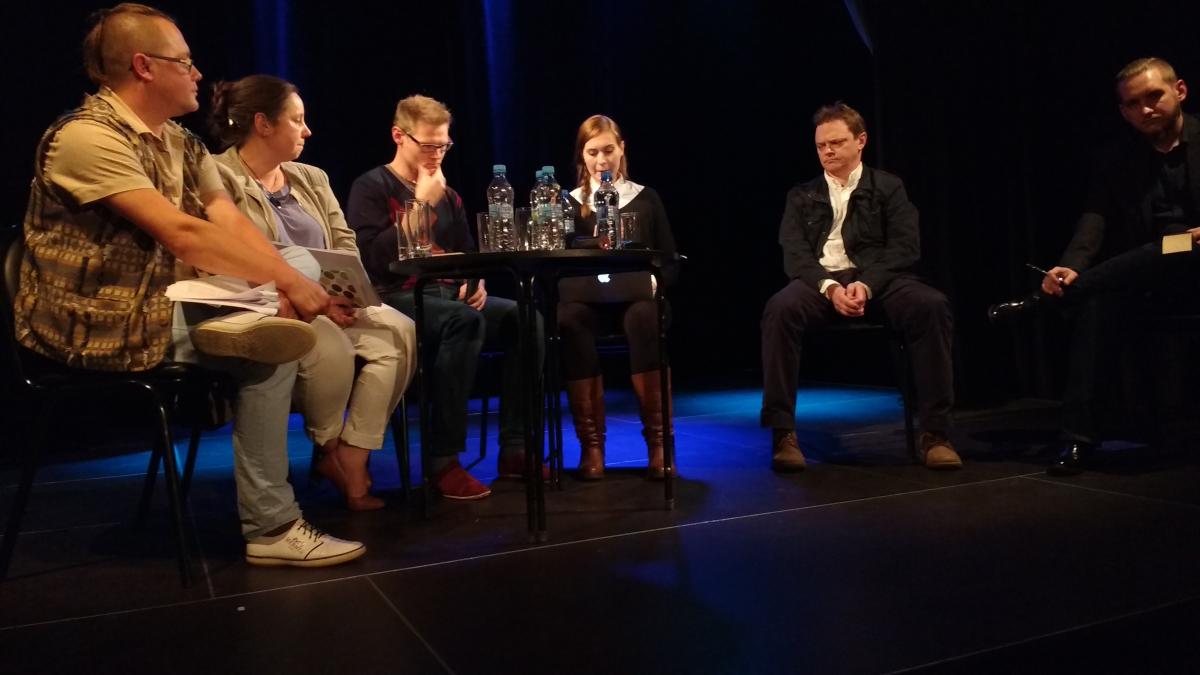 from left to right: Przemysław Owczarek, Monika Mosiewicz, Mark Tardi, translator Kasia Szuster Tardi, Kacper Bartczak, and Paweł Wodziński
On a crisp, mid-September night in Łódź, Poland, the Dom Literatury w Łódźi hosted four poets in a bilingual reading: Przemysław Owczarek, Monika Mosiewicz, Mark Tardi, and Kacper Bartczak.
The atmosphere was intimate and jovial. The deep magenta walls of the theater felt warm, lit as they were by the occasional wall fixture and by a soft strings of lights which lined the demi-moon shaped bar in the back corner. Small circular tables welcomed around fifty audience members while the four poets cozied up around a larger table onstage.
As everyone was settling in there was a lot of conversation, clinking of glasses, and some laughter spilling in through the door from another event just wrapping up. Even during the reading there was a side conversation or three—hush-whispering—but it didn't feel distracting for two reasons. First, the sound system was solid. Second, the performance was dynamic and interactive. The audience's conversations felt like a part of the performance.
Rafał Gawin's introductions helped set the mood. With Paweł Wodziński, he had the whole audience laughing. The poems for this reading had been translated in advance, but Paweł, sitting in a chair stage left with a small pad of paper, provided real-time translation of the introductions and interstitial banter. The translation delay added to the comedy: Rafał would make a joke and the Polish-speaking audience would laugh while Paweł scratched furiously in his notebook. Then the English audience would have an interpretation of Rafał's friendly teasing. Because each of these poets is connected to the Łódź writing community, the event had the feel of a house reading.

The many faces of Paweł Wodziński
In his introduction of Kacper Bartczak, Rafał mentioned Kacper's writing for The Literature House of Łódź's journal, Arteria: "His essays are also the longest ones which sometimes we divide," Paweł translated, "and he gets no points for that and in fact he should get negative points." Here Rafał was alluding to the research scoring process in the Polish university system. Kacper teaches American Literature at the University of Łódź. When reading the name of Kacper's latest book, Paweł stumbled over the word (Przenicacy—a neologism) and Rafał quipped in English, "It's very difficult and in English it's even more difficult."
As each poet was introduced, that person would get a mike so they could jump in the conversation. When Rafał mentioned that Dom Literatury's press would soon be publishing Monika Mosiewicz's second book, some ten years after her debut collection, she gibed, "A poem should wait ten years in order to be ready." The audience sometimes jumped in, too. During the Q&A when Kacper was talking about Przemysław Owczarek's influence on his work, he said that Przemysław suggested the title to his latest book, "and he hit the mark." "Mark Tardi?" someone shouted from the audience. "No," Kacper said, straight-faced and not missing a beat, "not Mark Tardi."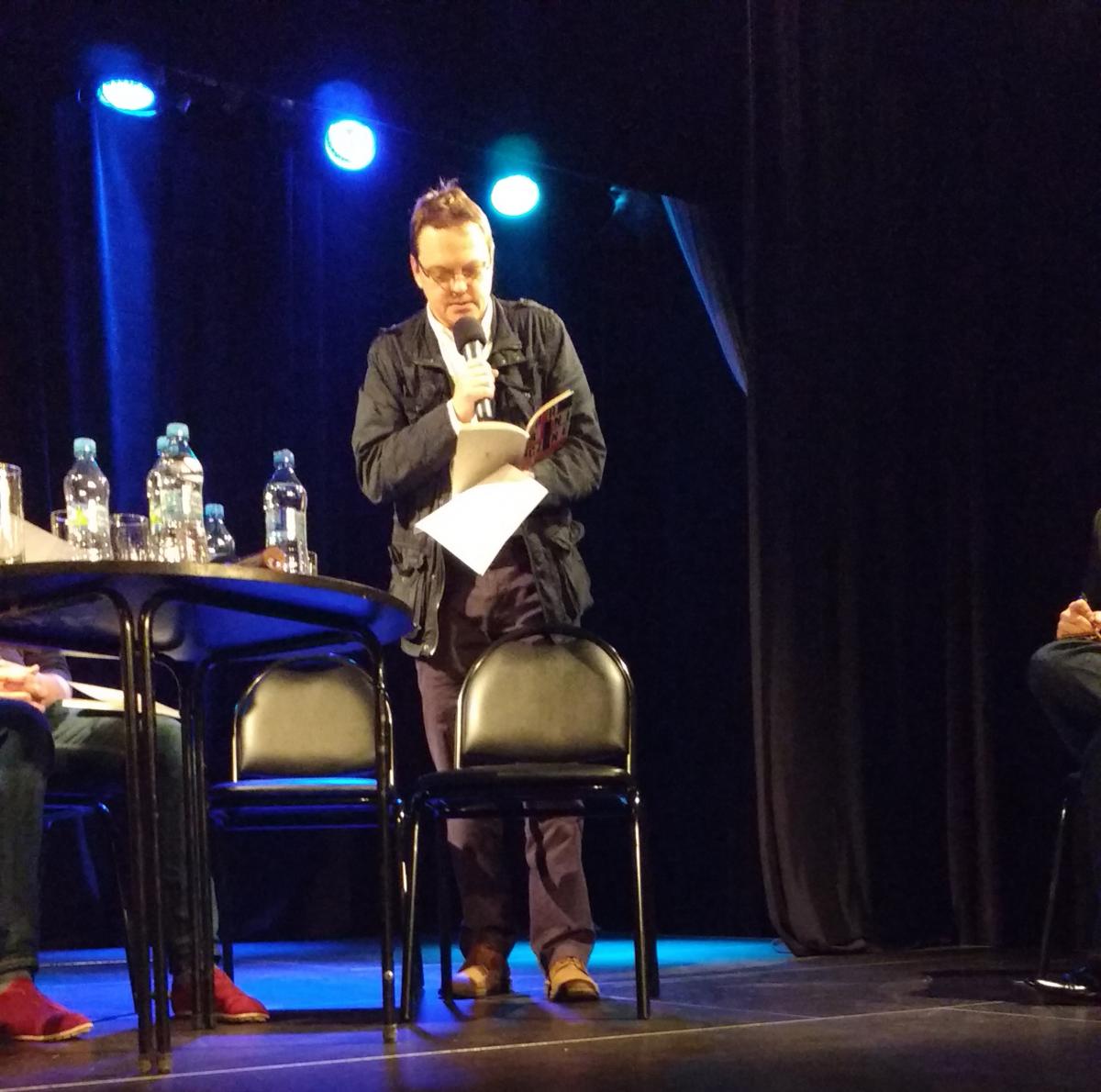 Kacper Bartczak
Kacper Bartczak read two poems after Walt Whitman. "Because I owe so much to Whitman," he said, standing up, "I'm going to read them in this position." His words were incantatory, with lines like "you, mutation that works in the nucleus" and "you artificial currency over which nations wage wars" and "you grass grass grass and grass again / vegetate on us. You will not be sorry." After these poems he said, "Everyone says Whitman is still alive but I saw it in Peter Gizzi."
In the Q&A, someone mentioned that Mark's poems and Kacper's seem closer to one another than the work of the other two authors. Because Mark is from the U.S., this audience member wondered if Kacper felt like a Polish poet or an American poet writing in Polish. His response was immediate and firm: "The hell with nationality. It's a disease. I hate Polish nationality. I hate American nationality. I hate Russian nationality. We should work against it. Poetry helps you do it. I could be from the U.S. I live in Łódź. I write in Polish."
In his opening commentary, Kacper mentioned that he had just signed a joint resolution to produce literary programming with at least thirty percent women. Because that night's event didn't meet the quota, he said, he had asked permission to still participate. After the reading I spoke with Paulina Ambrozy, an American Literature scholar at Adam Mickiewicz University, who explained that in Poland, the generic category for the poet has always been male, an association that persists. Paulina explained that the resolution came about after a scandal for a major award in which all five of the nominees were men. Someone (a woman) went back and collected data from the previous ten years' awards, showing that most have been awarded to men by predominantly male juries. The resolution seems a necessary step, though a thirty percent threshold and a focus only women feels like a pretty small step from the outside.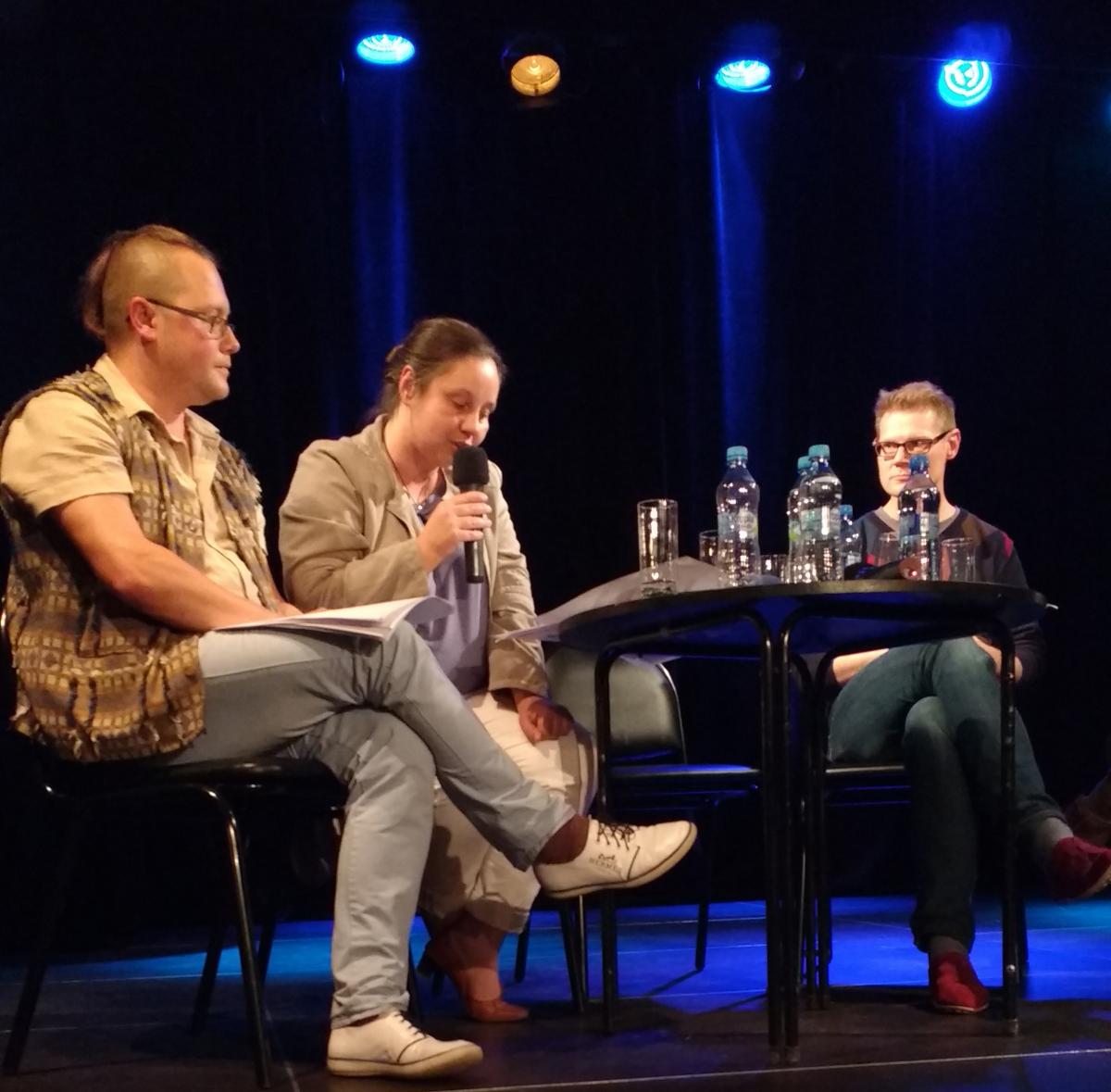 Monika Mosiewicz
Monika Mosiewicz's first book, which translates to Cosine Salsa, came out in 2008. By day, Monika's a lawyer. When asked about how different the second book will be from the first, Monika said, "I have maybe half of it, so it's difficult to say how it will be done. First, the rhythms. I like the sound of language—everything connected with the music in words. Every poem is about love or about language." Mark Tardi interjects, "Paciamcia." This nonce word, coined by Monika's daughter, was both the title and the refrain of one of the poems she read. She laughed. "Yes, everything is about Paciamcia." She added, "It is about court because court is a kind of theater. Parties, witnesses—when they act very different than in real life."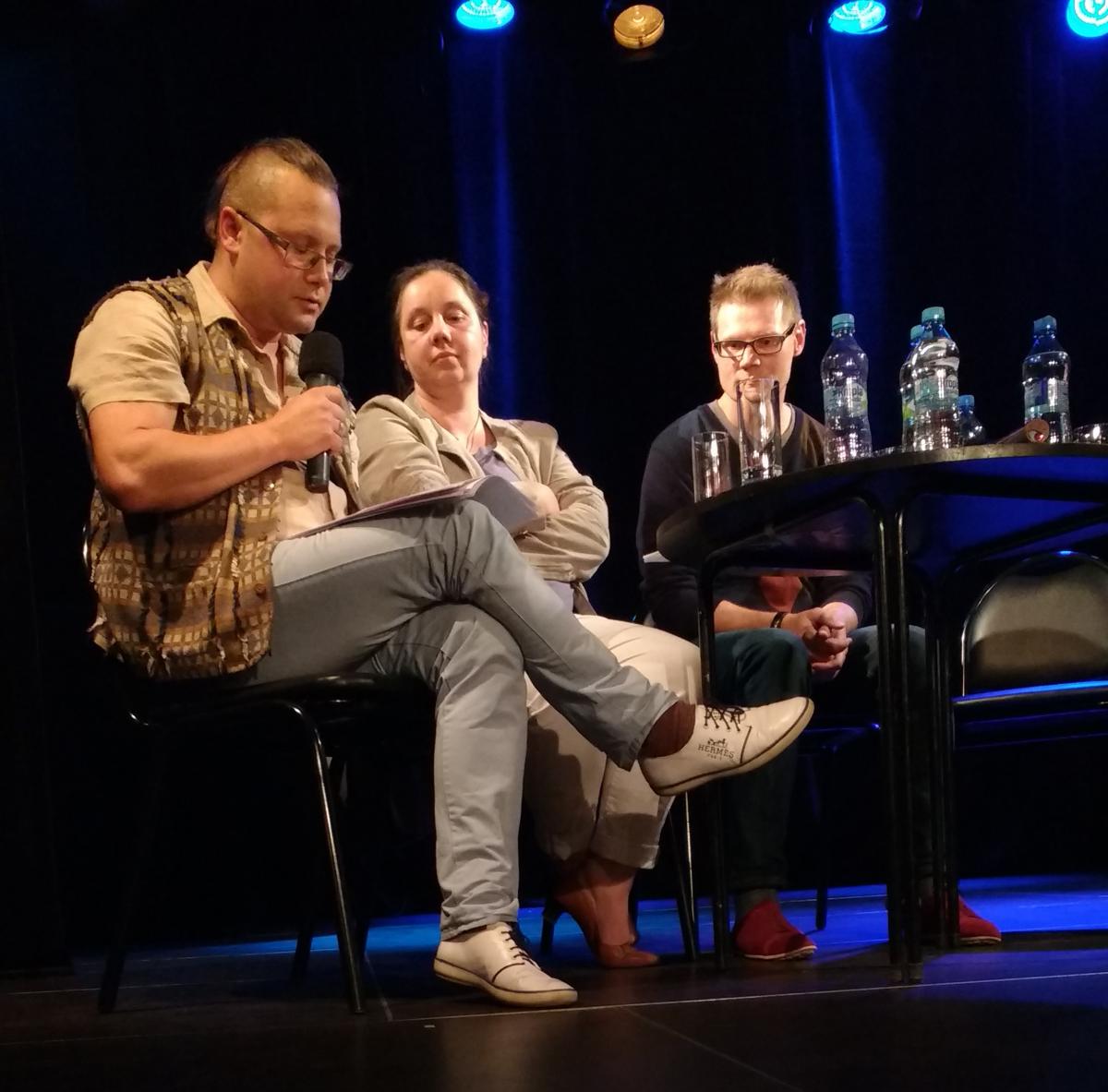 Przemysław Owczarek
While Przemysław read, Monika studied the pages in his hands. He spun lines like, "In protestant's dreams the bankers dream in a poem you don't reveal to friends" and "It wasn't you that braided in my hair dark allegories."
After the reading, Przemysław, who is the director of The Literature House of Łódź, stated that in order to understand the richness of the city's literary culture, it's necessary to know its history. As a cultural anthropologist, Przemysław knows how the literary landscape has mirrored Łódź's development. The Polish sensibility, he explained, dictates that if you have success, you're bad. Polish people will be jealous and want to pull you down. However, he added, Łódź is different because it was built in the nineteenth century, in the flow of modernity and capitalism. The growth of the town was supported by the work of Jews from Russia, Poles, Germans, and the Russian administration. "Here," he said, "it doesn't matter if you're Polish or a Jew, but if you innovate, you're good. This is the main idea that connects our city to the US." The city's infrastructure reflects this connection. There's "no market like Krakow's marketplace to sell vegetables." Instead, Łódź has a Main street just like many U.S. towns. Przemysław  sees this linear urban planning as an indication of the forward-thinking scene in Łódź, which shows up in the arts. "Before World War 2," he continued, "we had a fantastic avant garde movement." Łódź was the first place in Europe to have a museum of modern art, and the second place in Poland to have a museum of avant garde art. He told me that the avant-garde movement in Poland paralleled that of France, but with the difference that Polish writers believed the artist could continue constructing with their conscious imagination after drawing material from the unconscious. "Automatic writing wasn't finished," he explained.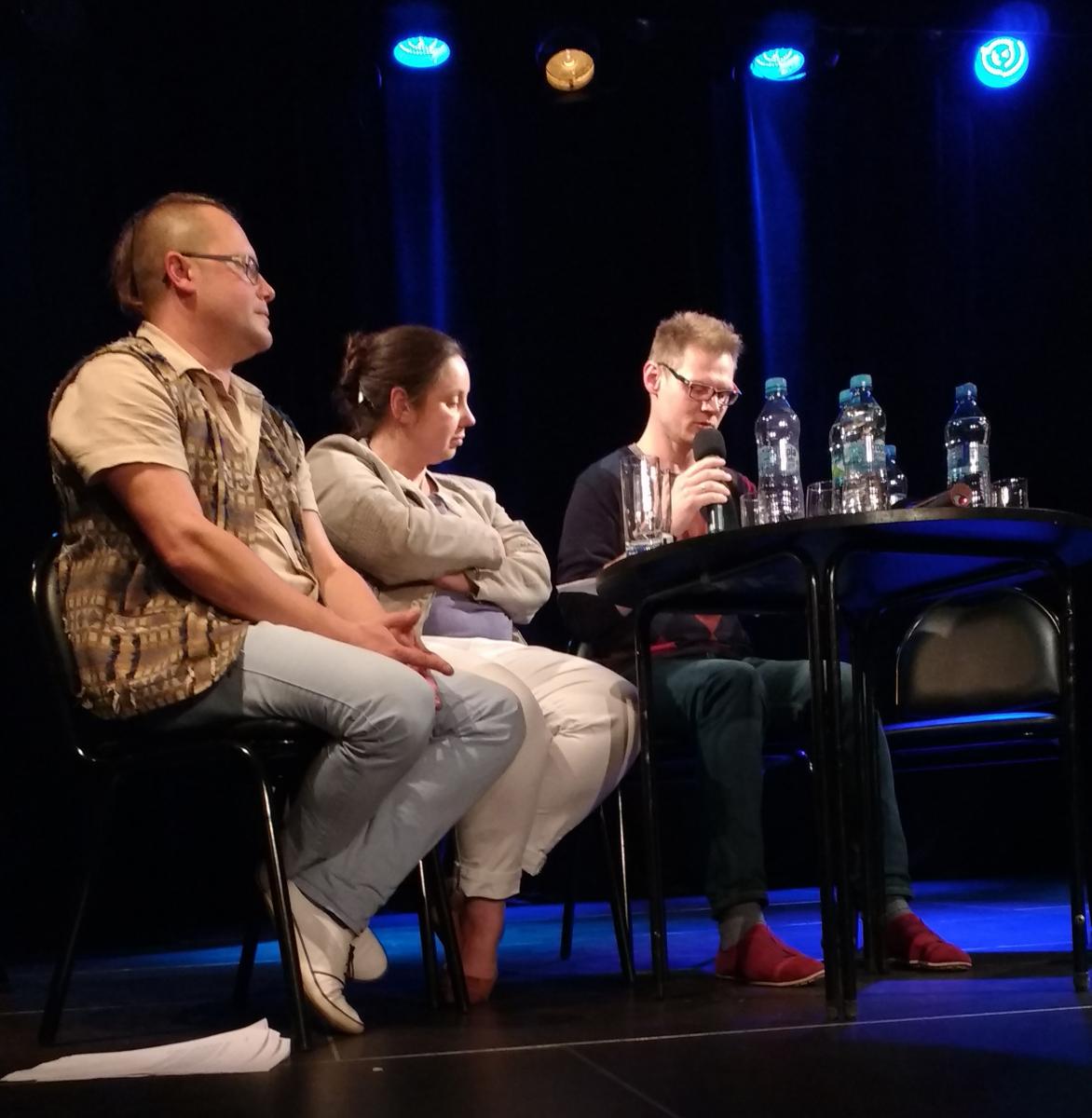 Mark Tardi
Because Mark Tardi had translated Przemysław's poems, Mark read the English versions. When it was his turn to read Mark confessed, "In many ways I was a weird child, but one of the ways I was a weird child is that at eleven, I wrote a research paper about Chernobyl." He read a darkly beautiful selection from his book called The Circus of Trust, recently released by Dalkey Archive Press, with lines like "because a dog, if you point at something, will only look at your finger" and "born without a mouth. In this way, furniture."
At the end of Mark's reading, Kacper interjected to say Mark will be going on a reading tour, and "this is stage one." Mark retorted, "Stage one sounds like a cancer."
Though this reading felt like a cozy family gathering around a dining room table, the Dom Literatury w Łódźi is a major force. The organization is supported by the city council along with grants from the Ministry of Culture, the National Cultural Center, the Museum of Polish History and various other arts organizations. They have an art gallery, a press, a literary journal, and they host somewhere close to twenty events per month, including children's events, events with a wide commercial appeal, specialty events like this poetry reading, and workshops for high schoolers, retired folks, and other groups in the city. As Przemysław explained it, "when you have collaboration between non-governmental organizations, a local government with a strategy for local publishing, and a strong academic department of foreign language, you have a great combination."
There's now a comics festival and together with the Polish Writers' Association Branch in Łódź, the Dom Literatury sponsors the annual Puls Festival. People come from all over Poland for this event. The website says its mission is "to show the relationship between avant-garde, modernity, and Łódź's identity in various international contexts… artistic, political or ideological."
The Łódź chapter of the Polish Writers' Association and the Dom Literatury w Łódźi have been long connected. Andrzej Strąk was the director of each organization in succession. When he moved from the Polish Writers' Association to the Dom Literatury, he brought a team with him, including Rafał Gawin and Przemysław Owczarek. It was Strąk's mentorship of these younger poets that has had such a large impact on Dom Literatury's recent flourishing.
The Dom Literatury has been through some tough times, too. Kacper explained how the 2015 Puls Festival created a major upheaval in the organization, resulting in Strąk's ouster. The Puls Festival is associated with a number of literary awards, among them the Julian Tuwim prize for lifetime achievement. In 2015 the prize went to Jarosław Marek Rymkiewicz. Kacper says Rymkiewicz's poems are well wrought, and he was the first person to translate Wallace Stevens, but that he writes essays with a dark center. He "mythologizes Polish history. There's a transcendental purpose to the essays that tell us we should sacrifice ourselves for something bigger. If you're Polish you should be ready to die tomorrow. It has a cosmic significance."
At the ceremony for the award, Przemysław protested. According to Kacper, "He put on a clown's cap and went to the stage and said 'You want your priests? I am your clown. You have made this guy into a priest and I am your clown. What are you doing. The prize title is for diversity!'" Andrzej Strąk, the then-director of Dom Literatury, had been the judge that year. 
There was a rift along generational lines. Older folks in the community sided with Strąk. City authorities stepped in and ousted the director. It was a traumatic time because everyone likes him. At first, people thought Przemysław would be fired from Dom Literatury because he had precipitated the scandal, but instead the city posted the director job position, Przemysław applied, and he was hired as the new director. Strąk remains a part of the Dom Literatury to this day and continues to lead workshops. But during a time when Poland as a whole is struggling with far-right extremism, the Dom Literatury has Przemysław Owczarek at the helm: a strong, anti-fascist leader who isn't afraid to stand up for what's right.
---
Laura Wetherington (insert web site: https://laurawetherington.com/)'s first book, A Map Predetermined and Chance (Fence Books), was selected by C.S. Giscombe for the National Poetry Series. She teaches in Sierra Nevada College's low-residency MFA Program and co-edits textsound.org with Hannah Ensor. Follow her on Twitter (insert: https://twitter.com/L_Wetherington) and Instagram (insert: https://www.instagram.com/l_wetherington/)