When the Poetry Center was founded in 1960, our library collection consisted of just a few hundred books, gifted to us by our founder, Ruth Stephan. We've been buying books ever since that time, and today, and we are pleased to announce reaching a major milestone: the Ruth Stephan and Myrtle Walgreen Collection has now reached 50,000 books.
We hope that every book we buy will be special or important for someone, but book number 50,000 clearly needed to be something spectacular. After much discussion based on great research by Library Director Wendy Burk, we decided on Trees, book artist Charles Hobson's rendering of W.S. Merwin's poem of the same title.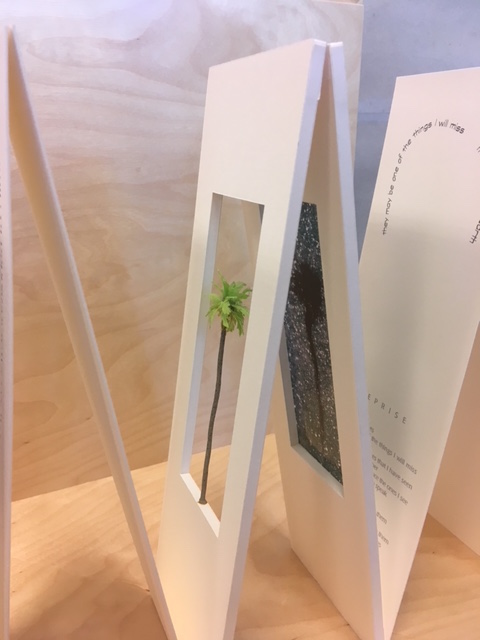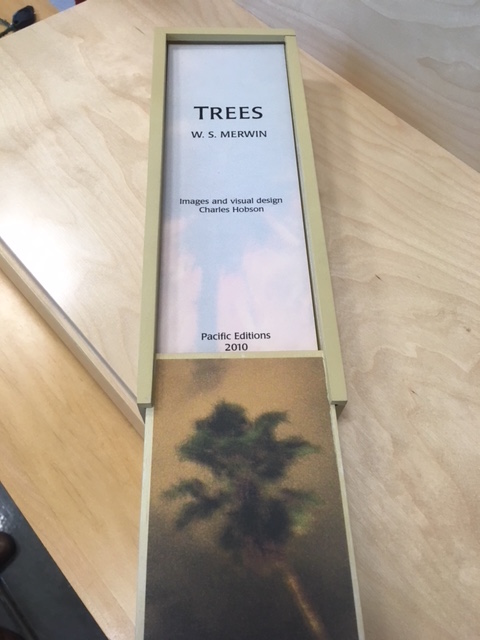 Merwin is a friend of the Poetry Center, having read as part of the Reading & Lecture Series and visited our library many times over the past fifty years. Published in an edition of only thirty copies, Trees unsurprisingly is hard to come by. In a fitting gesture of connection and generosity, Charles Hobson made his personal prototype copy of Trees available to us for purchase because the book had sold out. It is signed by both artist and poet.
Housed in what looks like a pencil box, Trees opens up accordion-style to reveal the poem printed length-wise across the pages. Richly colored palm trees printed on transparencies emerge from the folds, hiding and revealing the text of the poem underneath as they're turned.
Two tiny model palm trees fit into windows cut into the pages. Behind the second, a dark transparency fills another window. This is where the tiny flashlight included with the book (really!) comes into play: shine the flashlight at the tree and night sky transparency to throw starlight and tree shadows onto the final page, where they fit within an arc of text.
Everyone is welcome to come see Trees firsthand. Trees will be housed in the climate controlled protection of the L.R. Benes Rare Book Room, but like all of our rare books it is available to the public on request, any Monday through Friday during our regular hours. We would love to share this beautiful and unique book with you. Thank you to the generous community of people, past and present, who have supported the growth of this collection in many different ways. Here's to the next 50,000 books.