The Poetry Center's Education Department has collaborated with community members and youth in Barrio Kroeger Lane since 2018, when our first Writing the Community residency in the neighborhood was held. Now, in partnership with Favor Celestial, we're introducing a new blog series, BKL Stories. This series will celebrate the history, present, and future of the neighborhood, using poetry written by youth and other neighbors as a jumping off point. We're beginning with a collaborative poem written by Carlos Amezquita, Marytza Catalan, Sofya Landeros, and Abelardo Amezquita in 2018.
My Barrio's Five Senses
My barrio looks like:
A desert
People walking together
Angels
Praying
Looking at the clouds
Fruit trees
Mesquite trees
Lime trees
Lemon trees
Cactuses
Chickens and horses
Farms
Colorful houses
Pink purple and blue
Cans on the ground
My barrio sounds like:
Birds—pigeons and doves
Rain in the windows,
Birds singing
Colors from,
The bird
Whooshing of the wind
Dangerous lightning
My barrio smells like:
Dirt and rain
Carne asada on the weekend
The smell of dead animals
Pink blue orange green and black flowers
Orange flowers, marigolds, that make a path dead family can follow
My barrio tastes like:
Box candy with toys inside the chocolate
Sour cone with chamoy
Dirt
Lemon and figs
Watermelon
Good air
Water
Pineapple
Cherries
My barrio feels like:
The grip tape of a skateboard
Rough like cement
Soft like a soft blanket
Rubbery like a rubber ball I bounce
Hot in the summer and cold in the winter
Peaceful and quiet and VERY LOUD!
About Barrio Kroeger Lane: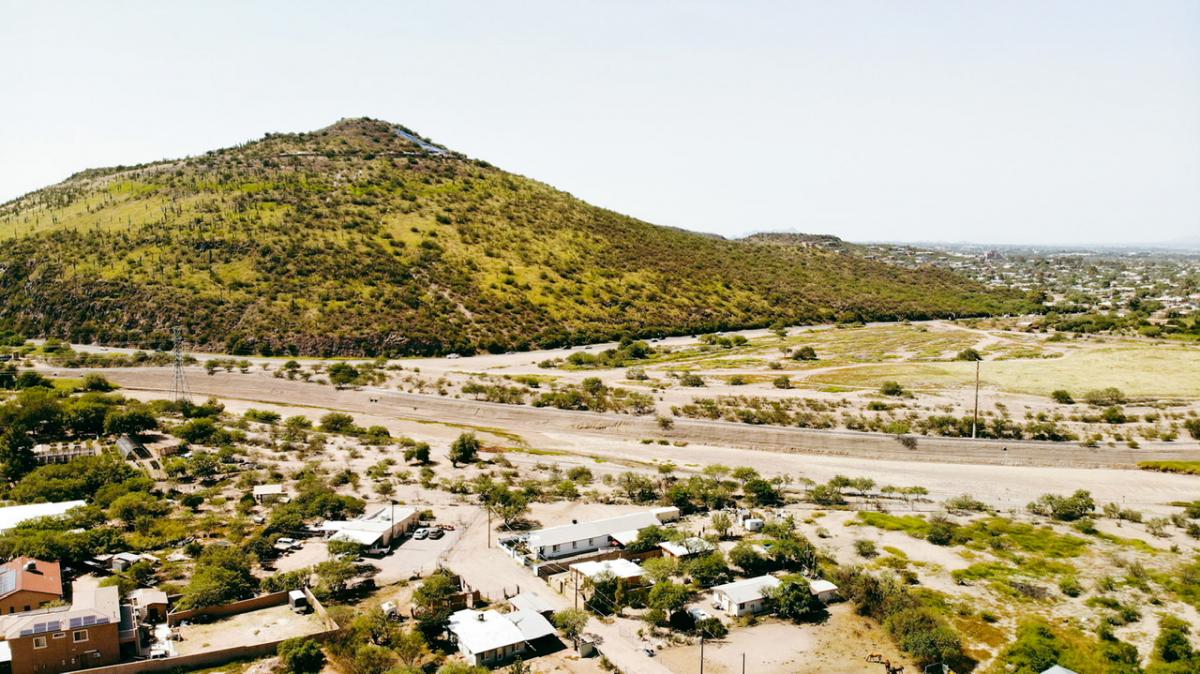 Located below Sentinel Peak, along the Santa Cruz River, and across from the original birthplace of S-cu:k Son (the original, Tohono O'odham name for Tucson), Barrio Kroeger Lane has been inhabited and cultivated for more than four thousand years. It remains a rural environment of horses and farm animals, a wildlife corridor, and full of gardens. Families have lived in this neighborhood for up to seven generations.
In "My Barrio's Five Senses," the young writers describe so many of the things that make the neighborhood special. Among them are the chickens, horses, and other animals that continue to call the barrio home. There are also the "colorful houses," many of which are examples of Sonoran vernacular architecture that illustrate the traditions of home-building in Tucson's Mexican-American neighborhoods (Barrio Kroeger Lane is currently eligible for inclusion on the National Register of Historic Places!). And then there are, "orange flowers, marigolds, that make a path dead family can follow": in the mid-twentieth century, a garden grew cempasuchil for Tucson's many Day of the Dead observances and celebrations. "Now to bring back life with Mother's soil and Creator's harvests," says Favor Celestial co-founder and Barrio Kroeger Lane resident Josefina Cardenas.  
As with so much else in Tucson with development potential, this rustic barrio is endangered by the pressures of progress. At the same time, neighbors in Barrio Kroeger Lane are organizing, with plans for a community space and art gallery in the works. You can learn more about their efforts on the Favor Celestial Facebook page.
Aerial photo by Giada Gallo-Quiroz and Demian Quiroz.