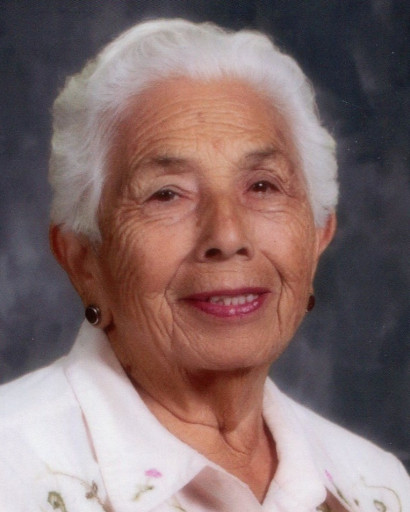 We recently learned of the passing of Doña Carmen Catalan Sardina, a longtime resident of Barrio Kroeger Lane and a treasure trove of historical memory for the neighborhood. In Winter 2021-2022, Doña Carmen told us the story of the bridge that once crossed the Julian Wash, located where 19th and 20th Streets are now. While there are no pictures of the bridge that we know of, her words bring it and the now-gone arroyo to life. In honor of her memory, we're sharing this story with you:
Do you see all the mesquites? The mesquites were on both side of the arroyo. If you stand on 20th Street, you can see two rows of mesquites that they haven't knocked down. [The bridge] was right here on [19th Street]. I went to the city [to try and get] information. The reason that they don't really have information was because the rail was metal, but where you walked on was wood. And that's why it's not recorded.
We used to live in that house [Doña Carmen gestures at a house down the street]—not in that house, a different house, but it was right there. We were there from 1949, and we're still in the neighborhood. We started coming in 1946, but to stay we started in 1949. Because my dad used to live in Nogales, Arizona and there was no work over there, so he would come and work here and stay with his sister, my aunt, who built the house where Tina is now. That house belonged to my aunt. And then right next to the yellow house, on Verdugo, there was another house that my uncle built, my father's brother. But they knocked it down.
If you go to Drexel next to la escuela, Grijalva [Elementary], and just kind of look at the middle, not the sides of the bridge, it will give you an idea of the bridge that was here. It was long. It could have been like seventy-five feet long. And the reason that they did the bridge was because when it rained it flooded, and then the people who lived over there couldn't go across so they had to leave their car here, and then they walked the bridge. Then when the water went down, they came back, and took their cars home. The bridge was here up to the 1970s, like '74 or '75.
My brother almost … they were playing under the bridge, and part of the wall of the bridge fell on him. At that time, [my mom and I] were coming [home]. Because my mom didn't drive, we had to get a taxi. As we got right there to the house where we used to live, the kids that were playing there, they started yelling. Even the taxi driver got off and helped us with digging. And he waited, so that my mom could take [my brother] to the county hospital to be checked. There is no way that they can say there wasn't a river. There was a river here!
[The Tuxon] hotel wasn't there. The only one was … there was a Holiday Inn at that time. So, these two hotels weren't there, on 20th Street. I worked at the Holiday Inn. My house after we got married was where that swimming pool is [at the Tuxon].  
We had a donkey. My mother-in-law lived on the edge of the river, on the other side of those mesquites over there. We would bring him inside the arroyo so he could eat the greens. We had a lot of fun. There was a lot of outside play, outside fun. We had a lot of bike riding. We would walk up A Mountain to the front like that. Sometimes we would use our bikes when we were going around it.
This post is part of our BKL Stories blog series, created in partnership with Favor Celestial. This series celebrates the history, present, and future of the Barrio Kroeger Lane neighborhood, and highlights poetry written and stories shared by BKL youth and other neighbors.
This transcript has been condensed and edited for clarity.