Supporting LGBTQ people in Immigration Detention
Get to Know Us/ Conoce un Poco de Nosotrex
 
Mariposas Sin Fronteras is a Tucson, AZ based group that seeks to end the systemic violence and abuse of LGBTQI  people held in prison and immigration detention. We envision a society that no longer finds solutions in the system of immigration detention or the prison industrial complex. As we work toward that goal, we support LGBTQI  people currently detained in Eloy and Florence, AZ through visits, letters, bond support, advocacy, and housing upon freedom from detention.
Due to the high rate of systemic abuse and discrimination towards LGBTQI detainees, support and solidarity are critical to ending the plight LGBTQI prisoners face in immigration detention.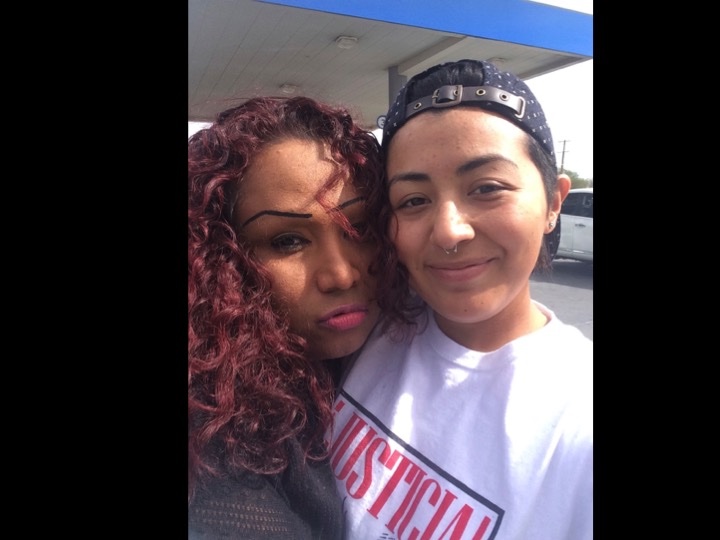 We believe that the voices of people most directly oppressed by the current system must be central to envisioning a more just world. Our leadership consists largely of LGBTQI immigrants, many of whom have been detained. We actively organize towards a society based on the principles of equality, justice, respect, and liberation for all.
Since becoming the Director at Casa Mariposa in November of 2020, Karolina Lopez has been working with Mariposas Board and Support committee on restructuring and developing a strategic plan for the sustainability and future of the organization. We have and will continue to do the work, providing direct support for LGBTQI migrants in and outside of immigration detention.
We are very proud to report that from March 2020 to March 2021 Mariposas has distributed more than $36,000 of Covid-19 relief funds to the population we serve.
---
Who is Karolina Lopez and How did Mariposas Sin Fronteras come to be…....
My name is Karolina Lopez Barrera. I am a Trans woman who uses She/her pronouns born in Acapulco, Guerrero, Mexico. My immediate family consists of mom, dad, 2 brothers, 3 sisters and me. Our household was conservative and my father and brothers are what you would call Machista. Throughout the years I tolerated a lot of abuse from both my parents and siblings.  I've always embraced my feminine side. I guess you could say, I never felt closeted. 
My parents could not stand this about me and all of the psychological abuse just led to me eventually hating them. At the early age of 10, I made the difficult decision to leave my home, thinking that I could go with a family member. Instead I became homeless. While homeless, I was sexually abused by police officers and on one occasion by a gang, who then proceeded to take off the rest of my clothes and stab my inner thighs with a pocket knife.
During the time that I was there I realized that the Trans community was persecuted and imprisoned for just being Trans and walking around town in womens clothes. I had the unfortunate experience of meeting many Trans girls in my short time there who went missing or were later found dead and sometimes mutilated. Being only 12 years old, this filled me with fear and worry for my life. I had heard from Trans and Gay friends that the United States was a place in which people like us could live freely with dignity. My older sister at the time already lived in the United States and was the only person I had any contact with other than my niece (her daughter). 
It was then that I asked my sister for help to come to the U.S. She then told me yes, and back then it was really easy to cross. I came here through Piedras Negras in 1995 at 13 years old. I was reunited with my sister, who was able to get me false documentation with a different age. She was then able to get me a job at the Motel 6 where she was working. We worked there together for five years, but I only lived with her for one.
During my first year of living here with her and her husband, she began to change her attitude with me due to my way of being. I then decided to leave her home and get an apartment with a friend. As we know, Arizona is a strong anti-immmigration state. Immigration enforcement was everywhere. In the streets, at work, at the stores, and on one of those occasions, they conducted a raid at a Motel 6, taking a lot of people with them, including my sister. I didn't work that day. But since the raid, the motel manager no longer wanted to employ people without official documentation. After that, I started to see a lot of discrimination against my person for being a Trans woman, not having official, documentation and my melanin. 
After losing my job at Motel 6, my savings quickly began to dissipate and I became homeless once again. I didn't have any friends until I began to meet more Trans women on the streets. I was on my way to a friend's house when a raid in which the police were arresting some sex workers started to take place. I hadn't noticed, and at the time I had no relationship to the women involved, nor was I guilty. Unable to speak or understand English and confused as to why these officers were arresting me, I began to talk to the other detainees. That is when I realized why they had arrested us and that one was just like me and also just happened to be at the wrong place at the wrong time.
Once in court, the government provided a lawyer, who was in favor of the system. I told my lawyer that I was aware of the reason they had arrested me but that I was innocent. The lawyer told me, "If you want to claim your innocence, you will have to stay here for 3 months. But if you want to leave tonight, you will have to sign this document admitting that you're guilty. The judge will then let you go, send you to a prostitution school, and give you other court dates."
Because I had never been in this situation before and I was scared of being imprisoned, I signed. That was one of the biggest mistakes I ever made. Since I had no home or resources, I missed my court date, which later resulted in my second arrest. I was imprisoned by myself and sometimes with other trans women for a week.
After being released from that experience I met a man, a U.S. citizen. We began to court each other for a month and the next month he invited me to live with him. We lived very well for a year. He had an apartment, a car and a good job as an electrician. Unfortunately after that year he made some bad friends that got him hooked on meth, leading to him lose his job, home, and car. He then proceeded to change his behaviour with me, physically and verbally  abusing me until I became afraid of him. He would burn cigarettes on me, force me to do drugs, tattooed his name on me without my consent and later forced me into prostitution. This lifestyle continued for a little over 8 years.
During that lapse of time I fell into prison numerous times due to charges like prostitution and transpassing. The second to last time I was incarcerated was for 6 months. I told my partner at the time that I would tell the authorities everything he had done and made me do. I lied, and for the first time in a long time I was alone again. He had disappeared, leaving me to be homeless alone with an addiction that I had no choice in. I ventured the streets of the city for 2 more years after that until my last arrest in 2009.
Interestingly enough my last arrest happened when I called 911 after getting my bag stolen by a taxi driver. My bag at the time had very important documents and I was desperate to get it back. My friends at the time reassured me that nothing would happen to me because I had already paid for all my crimes with prison time. After the officer at the time took down my theft report he proceeded to arrest me saying I had a warrant out for my arrest. I knew that was a lie. During this time ICE was deporting immigrants who were arrested.
This was the second time the government and police force had let me down. Once again, I was faced with a paper to sign admitting to something I wasn't guilty of. It was either walk out of there admitting that I was guilty or  stay for 5 months trying to prove my innocence. I just thought to myself, " I have nothing to lose and I don't want to be deported."  I then told the lawyer, "I want to fight my case". Fifteen days later I had court. During that trial I was declared innocent and they let me go. While this may sound like good news, I was also told that immigration had a hold on me and that I needed to meet with them.
Immigration came for me and took me to an immigration center. All I wanted to do at that moment was sign the paper, leave to Mexico and return to the US that same day. I was taken to the Immigration center in Eloy, AZ. There I was told that I would have to wait 15 more days to see an immigration judge and be deported. The officers there asked me, "What are you?" They asked me to take off my clothes and when they saw that I hadn't gotten any work done on my body, they let me know I would be incarcerated with men.
When I arrived there were more than 80 men in our unit. From the moment I stepped foot into that unit the physical and verbal abuse began to take place from both the officers and detainees too. I just wanted to be deported at that moment, but unfortunately I had no choice but to wait the 15 days.  During those 15 days, I met other Trans women who told me that I had an opportunity to fight my case by asking for political asylum. They told me the process was only 6 months and they would grant me the asylum or deport me. 
Like I mentioned before, at this point I had nothing to lose. If I won, then I would be winning something. If I lost, it didn't matter for there was nothing left to lose. I decided to fight for political asylum thinking that 6 months would fly by. I would've never imagined that those 6 months would turn into three and a half years. Those three and a half years were the worst of my life. During that time I received physical hits, death threats, rape, and 6 months in isolation. The isolation was for my own "safety," but it just made my depression, anxiety and stress more unbearable then ever. I have never felt more alone. Unfortunately during that time I wasn't aware of any groups on the outside who helped people like me. It wasn't until I had been in isolation for 6 months that I met a group of pro-bono lawyers from The Florence Project. 
They were the ones who helped me get in contact with some pro bono lawyers in Chicago who first got me out of isolation, then the detention center under oath. The lawyers who helped me get out of the detention center under contacted me with Casa Mariposa. Casa Mariposa signed for me to get out under oath and was being directed by a Cuaqueros religious group. While I was at the house I met a lesbian woman who at that time went by Rachel. She asked me if I wanted to be part of a group that supported people inside of detention centers by visiting them and sending them letters of support. At that moment I honestly wanted nothing to do with anything related to detention centers. I left that place with this deep depression and anxiety that I just didn't want to know anything. She insisted constantly until one day she invited me to share my story at a church, and with a lot of rage I did. And I really only did it because I felt like it was the least I could do while staying at the house and I needed to let it out. 
I would have never imagined that sharing my story would inspire other people to donate and help pay for the bond to release other people like me from detention. That opened my eyes and made me think of all the trans women and gay friends I had left behind in the detention center.  My mind began to go off thinking about all the other people I have never met who crossed like me looking for a safer place to live. 
During this time I met a gay man named Osmani who was trying to organize himself and be part of group. It was then that Rachel, Osmani and I decided to form "Mariposas Sin Fronteras," though back then we called ourselves the "Rainbow Defence Fund, Inc." We began to meet as a collective and organize, recruiting around eight volunteers.  As a group of volunteers we began to visit people in detention, write recommendation letters and look for sponsors. 
We started from zero, from nothing, meeting each other locally. It wasn't until we started going to national conferences that we made ourselves known. To be able to pay bonds we needed to fundraise by selling food and making GoFundMes. In the midst of that, organizations that donate generous amounts of money began to hear about us and donate. The more people heard about us the more funds we got, allowing us to support people who were leaving the detention center with three months of rent. 
In 2017 we became an official non-profit organization. That same year we bought Casa Mariposa from the Cuaqueros religious group that had originally helped me.  Now "Mariposas Sin Fronteras" and "Casa Mariposa" are united to continue serving the migrant, LGBTQ, black, and mainly trans community. During that time I was the coordinator of the letters and visitation  program. Today I am now the Director of Casa Mariposa.
Mariposas Sin Fronteras has been for me and many others in the community a trampoline that we've been able to bounce off of onto better things and opportunities allowing for us to live a life with dignity.  Thank you for taking the time to read my story. Don't forget that Mariposas is here to serve, live and resist.
If you are moved to donate by Karolina's story, you can click here to reach Mariposas Sin Fronteras's donation page.