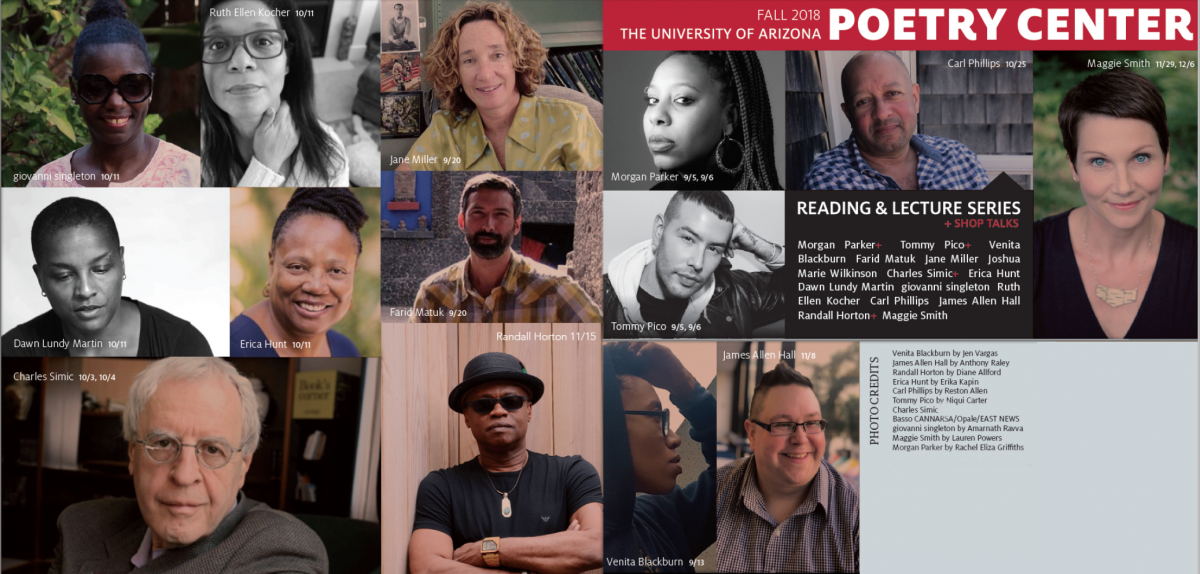 We're very excited to announce our Fall 2018 Reading & Lecture Series, which features poetry and prose readings, as well as talks and panels, from a great group of contemporary writers. 
Our fall resident, Maggie Smith, will present both a reading on Thursday, November 29 and a talk on Thursday, December 6, during her extended stay in Tucson. Smith is the author of three books of poetry: Good Bones, The Well Speaks of Its Own Poison, and Lamp of the Body. She is the winner of the Dorset Prize and the 2016 Independent Publisher Book Awards Gold Medal in Poetry. 
Starting September off, as part of the Morgan Lucas Shuldt Reading, the inimitable Morgan Parker and Tommy Pico will be reading on Thursday, September 6. The day before you can find them at the Phoenix Art Museum on Wednesday, September 5. The UA Prose Series will also kick off with a reading by Venita Blackburn on September 13, 2018, followed by a UA reading featuring Farid Matuk and Jane Miller. The UA Prose Series will also welcome, poet and prose writer, James Allen Hall on Thursday, November 8th.  
For the month of October, we will be hosting Charles Simic, a poet and translator that you will not want to miss! He will be reading at the Phoenix Art Museum on Wednesday, October 3 and at the Poetry Center on Thursday, October 4. Since 1967, Simic has published numerous award-winning books of poetry, eight books of essays, a memoir, and numerous books of translations.  He was Poet Laureate of the United States from 2007-2008. His new volume of poetry, The Life of Images, a book of selected prose, is his most recent publication. 
October amazingness will continue with the Letters to the Future: Black WOMEN/Radical WRITING Book Launch with Kore Press, featuring a reading and conversation with book editors Dawn Lundy Martin, Erica Hunt and contributors Ruth Ellen Kocher and giovanni singleton on Thursday, October 11. This seminal anthology collects temporal, spatial, formal, and linguistically innovative literature from Black women from the United States, England, Canada, and the Caribbean, celebrating work that challenges readers to participate in meaning-making. If you can believe it, we will also be hosting the Killing Floor book launch on Saturday, October 13. This event will take place at 5 pm at the Poetry Center. Join us in a celebration of Ai, one of Tucson's great poets, and hear readings from her critically acclaimed second book and from the Poetry Center's voca archives. This event is offered in partnership with Tavern Books, which is republishing a 40th anniversary edition of the previously out-of-print collection. 
Carl Philips will read on Thursday, October 25. The author of more than a dozen books and a Guggenheim fellow, his most recent collection is Wild is the Wind. We are excited to host Carl! 
Finally, we are pleased to begin our Art for Justice Reading Series with our inaugural reader, Randall Horton, who reads Thursday, November 15. Horton is is a fellow of Cave Canem, a member of the Affrilachian Poets and a recipient of the Gwendolyn Brooks Poetry Award, the Bea González Poetry Award, and a National Endowment of the Arts Literature Fellowship. The Art for Justice grant is an investigative inquiry at the University of Arizona Poetry Center, exploring the relationship between poetry and carceral justice.  Our funding comes from the Art for Justice fund (www.artforjusticefund.org), a new initiative of the Ford Foundation that seeks to reform the current criminal justice system.
We will end our fall 2018 season with a reading given by the participants of the Classes & Workshops at the Poetry Center, and that special event will take place on Thursday, December 13. 
Looking forward to a spectacular season at the Poetry Center! 
Diana Delgado, Literary Director 
Events take place at the Poetry Center unless otherwise indicated. Additional events and info at poetry.arizona.edu/calendar.
Wednesday, September 5, 7:00 PM at the Phoenix Art Museum
Reading: Morgan Parker and Tommy Pico 
Thursday, September 6, 7:00 PM
Reading: Morgan Parker and Tommy Pico: Morgan Lucas Shuldt Reading
Thursday, September13, 7:00 PM
Reading: UA Prose Series: Venita Blackburn
Thursday, September 20, 7:00 PM
Reading: Farid Matuk and Jane Miller 
Wednesday, October 3, 7:00 PM at the Phoenix Art Museum
Reading: Charles Simic
Thursday, October 4, 7:00 PM 
Reading: Charles Simic
Thursday, October 11, 7:00 pm
Reading: Letters to the Future Book Launch: Dawn Lundy Martin, Erica Hunt, giovanni singleton and Ruth Ellen Kocher
Saturday, October 13, 5:00pm
Reading: Killing Floor Book Launch
Thursday, October 25, 7:00 pm
Reading: Carl Philips
Thursday, November 8, 7:00 PM
Reading: UA Prose Series: James Allen Hall
Saturday, November 10, 5:00 PM
Reading: Annual In Memoriam Reading
Thursday, November 15, 7:00 PM
Reading: Art for Justice: Randall Horton
Thursday, November 29, 7:00 PM
Reading: Maggie Smith
Thursday, December 6, 7:00 PM
Lecture: Maggie Smith
Thursday, December 13, 7:00 PM
Reading: Classes & Workshops