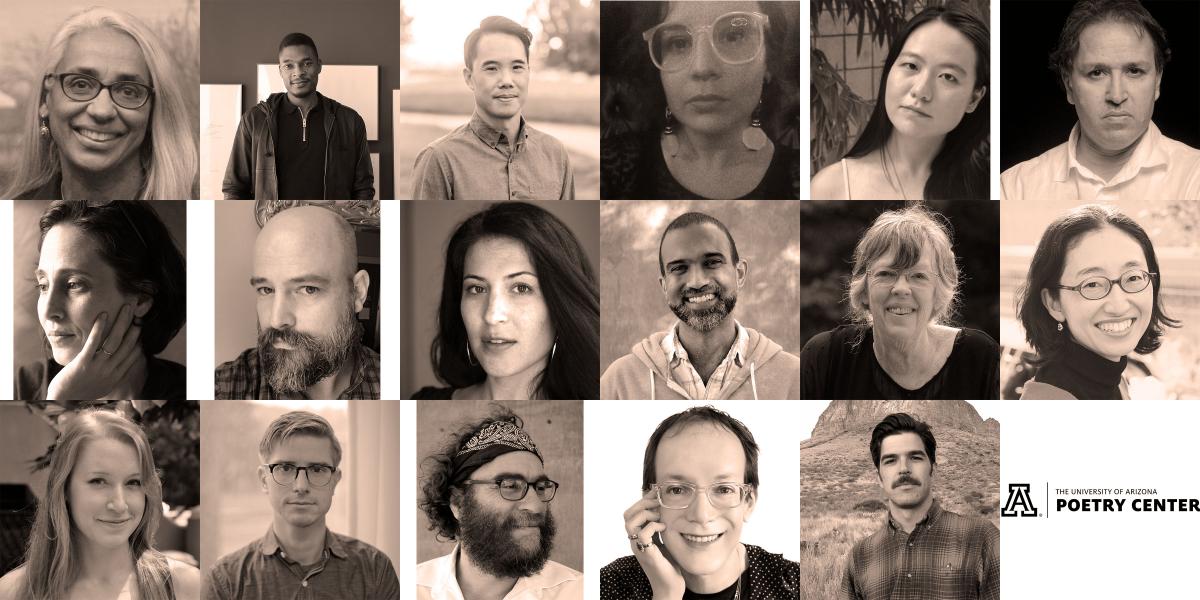 We're very excited to announce our fall 2018 series, which features poetry and prose readings, as well as talks and panels, from a great group of contemporary writers.
Our fall resident, Maggie Smith, will present both a reading (11/29) and a talk on (12/6) during her extended stay in Tucson. Smith is the author of several books of poetry–most recently, the highly-acclaimed collection Toqueville–as well as a translator of over nine volumes of poetry and the editor of two anthologies of Arab-American literature. He is one of three MacArthur Fellows to join us in the spring of 2018 (Eleanor Wilner joins us on 1/18, and Terrance Hayes will be here 2/22-2/24). 
In February, we're hosting the Bagley Wright Lecture Series (you may remember Joshua's, Rachel's, or Srikanth's most recent Bagley Wright visits) as the lecturers convene—for the first time!—here in Tucson to read from their lectures, reflect on this unique process, and talk about what comes next. The gathering is entitled "You Are Who I Am Talking To," and we will be joined by poet-lecturers Dorothea Lasky, Joshua Beckman, Timothy Donnelly, Terrance Hayes, Rachel Zucker, Srikanth Reddy, and poet-BWLS director Matthew Zapruder. There will be readings of these lectures on two nights—Thursday, 2/22 and Friday, 2/23—both free and open to the public, and both at 7:00 PM. In addition, there will be two daytime panels—discussing poetry and social engagement, poetry and practice, poetry and autobiography, and poetry and extra-literary influence—on both Friday, 2/23 and Saturday, 2/24 (times still TBA), also open to the public and at the UA Poetry Center. 
Poet and critic Stephanie Burt will be joining us in Tucson on 3/15 to present a hybrid reading-talk on the topic of The Body + Poetry, this year's national themed programming from the Poetry Coalition, of which the UA Poetry Center is a founding member. Poet and translator Sawako Nakayasu is this year's Hannelore Quander-Rattee Works in Translation reader; her award-winning translations have spanned aesthetic and geographic ranges, and she hopes to read her newest translations—of modern Korean poet Yi Sang—when she visits in March. 
And that's not all!—we'll also enjoy readings from Ada Limón (4/5), Alec Finlay (3/1), Vaunda Micheaux Nelson (4/25), Kristen Radtke, and Charles Yu (1/25). We have University of Arizona alumni in full force, with visits from Francisco Cantú, Thomas Mira y Lopez, and Sylvia Chan (4/19), and will finish our season, as we do each year, with student work in the form of the Persona issue release reading (4/26), UA MFA Graduate reading (5/3), and the Poetry Center Classes & Workshops reading (5/10).
In addition to this Tucson programming we will also offer two readings in Phoenix as part of our ongoing partnership with the Phoenix Art Museum: on Friday, 2/2, Khaled Mattawa will visit Phoenix (after reading in Tucson on 2/1), as will Ada Limón on Friday, 4/6 (Ada reads in Tucson on 4/5).  
We're grateful, as always, to our partners and collaborators in this season. Khaled Mattawa's residency is possible with support from Amazon Literary Partnerships. Sawako Nakayasu's presentation in the Hannelore Quander-Rattee Works-in-Translation Series is in thanks to the support of an individual donor. "You Are Who I Am Talking To" is presented in partnership with the Bagley Wright Lecture Series. Readings in Phoenix are presented in partnership with the Phoenix Art Museum and with support from lead sponsor the Virginia G. Piper Center for Creative Writing, with additional support from the ASU Creative Writing Program, the Literary & Prologue Society, and Superstition Review. The UA Prose Series (Radtke and Yu, 1/25; Cantú, Mira y Lopez, and Chan, 4/19) is presented with curation and support from the UA College of Social and Behavioral Sciences and the UA Creative Writing Department. Deep thanks are due, too, to the National Endowment of the Arts, as well as the Poetry Center Whitman Circle as well as Friends of the Poetry Center for their support of the 2017-18 Reading & Lecture Series. 
We hope to see you this spring at the Poetry Center!
Events take place at the Poetry Center unless otherwise indicated. Additional events and info at poetry.arizona.edu/calendar.
Thursday, January 18, 7:00 PM
Reading: Eleanor Wilner
Thursday, January 25, 7:00 PM
UA Prose Series: Kristen Radtke & Charles Yu
Thursday, February 1, 7:00 PM 
AND Friday, February 2, 7:00 PM at the Phoenix Art Museum
Reading: Khaled Mattawa
Thursday, February 8, 7:00 PM
Craft Talk: Khaled Mattawa
Thursday, February 22, AND Friday, February 23, 7:00 PM
"You Are Who I Am Talking To": Bagley Wright Lecture Series at the Poetry Center
Thursday, March 1, 7:00 PM
Reading: Alec Finlay
Thursday, March 15, 7:00 PM
Reading/Talk: Stephanie Burt
Thursday, March 22, 7:00 PM
Hannelore Quander-Rattee Works-in-Translation Series: Sawako Nakayasu
Thursday, April 5, 7:00 PM
AND Friday, April 6, 7:00 PM at the Phoenix Art Museum
Reading: Ada Limón
Thursday, April 19, 7:00 PM
Reading: UA Prose Series: Francisco Cantú, Thomas Mira y Lopez, and Sylvia Chan
Wednesday, April 25, 7:00PM
Reading: Vaunda Micheaux Nelson
Thursday, April 26, 7:00 PM
Reading: Persona Issue Release
Thursday, May 3, 7:00 PM
Reading: University of Arizona Creative Writing MFA Graduates 
Thursday, May 10, 7:00 PM
Reading: Classes & Workshops