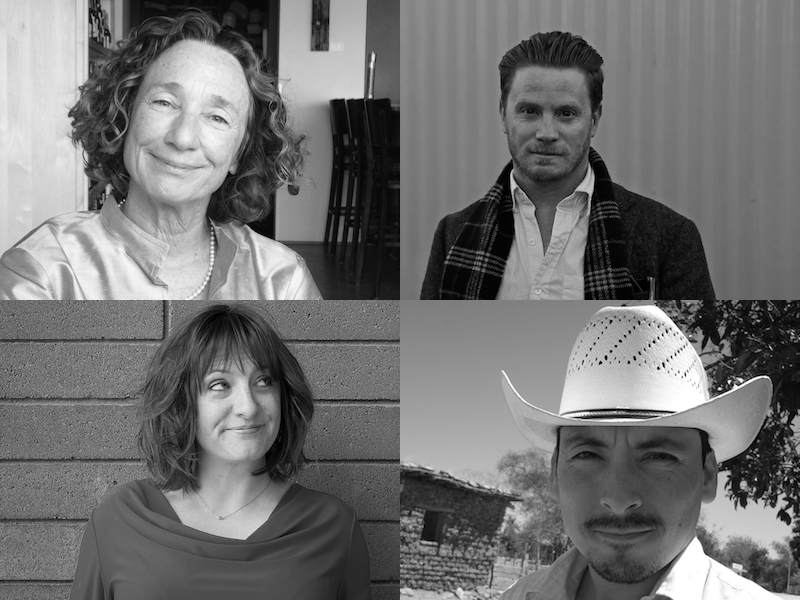 Through the Classes & Workshops program, the Poetry Center offers continuing education in creative writing and literature: writing workshops, generative writing studios, and literary seminars--in poetry and prose. Noncredit courses are taught by local and visiting writers, including University of Arizona faculty. There is room in our Classes and Workshops program for writers and readers of all levels of experience.
Current Offerings
Explore our current and upcoming offerings here. In-depth descriptions.
Please note: Registration for Summer 2017 classes begins May 29th and remains open until classes are filled. When a class that interests you has filled, you may be added to the waiting list, by sending an email to Becka Ranta: rdranta@email.arizona.edu
The season at a glance:
The Art of Genre in Short Fiction, with Ted Mcloof. 6/9-8/17. Learn more. **FULL**
The Poetics of Lived Experience: A Writing Workshop, with Steven Alvarez. 6/12-6/21. Learn more.
When We Dead Awaken: Reading Adrienne Rich, with Jane Miller. 7/10-7/19. Learn more. 
Poetry Lab, with Sarah Kortemeier. 7/15-8/19. Learn more.
Registration
Registration for Summer 2017 is now open.
Registration is available online only, at the Poetry Center's Submittable page. If you do not have a credit or debit card, or for another reason cannot pay online, contact Becka Ranta at (520) 626-4285 or rdranta@email.arizona.edu. If you need assistance in selecting the right course for you, don't hesitate to contact Becka and she will be happy to advise you.
If for any reason you need to cancel your registration, please contact Becka immediately. A full refund will be issued up to 3 business days prior to the first class. After that, a full refund will be issued ONLY if the vacant spot can be filled.
To cancel your registration, contact Becka Ranta at (520) 626-4285 or rdranta@email.arizona.edu
Apply for a Scholarship
Our 2016-17 need-based Campau/Inman Scholarship program is newly expanded and improved. Applications for Summer 2017 scholarships will be accepted May 15-May 22. Apply here. Registration will open one week later, on May 29.
Celebration
And at the end of the fall and spring semesters, Classes & Workshops participants and instructors are invited to read in a public reading. The Spring 2017 Classes & Workshop Reading will be May 11. More information about all our readings can be found at our calendar.
Proposals for Future Courses
Are you interested in offering a writing workshop or seminar in the Classes & Workshops program? We accept proposals from creative writing instructors year-round, and are usually approving and scheduling courses nine months to one year out. We have a number of talented instructors who teach regularly for the Poetry Center, but we are always interested in expanding our offerings. Please write to Hannah Ensor, our Literary Director, at hensor@email.arizona.edu with a description (of one or two substantive paragraphs) of the course you would like to propose, as well as your C.V. or résumé.
Course Archive
Please browse the descriptions of courses we have offered in past seasons. Recent seasons include:
Spring 2017
Disorienting the Essay: Finding Form in Personal Nonfiction, with Katherine E. Standefer
Ecopoetics & Your Next Poem: A Weekend Workshop, with Brenda Hillman
Outsider Literature: Writing from the Urgent Edges, with Robert Snyderman
Documentary Storytelling in Prose, with Lisa O'Neill 
Writing Resistance and Recovery, with Hoa Nguyen
Oracular Writing: Living Images, with Annie Guthrie
Fall 2016
Beyond Measure: Experiments in the Music of Poetry, with Samuel Ace
Writing Past Pain and Into Possibility, with Camille Dungy
The Art of the Chapbook, with Joni Wallace
Writing the Wild: A Weekend Intensive, with Pam Uschuk
Nonfiction as Reconstruction, with Francisco Cantú
Summer 2016
Are We There Yet? Pacing and Payoff in Narrative Verse, with Adrian Matejka
The Deepened Image, with Christopher Nelson
Screenwriting: The Basics, with Ted McLoof
Collaboration Playvacation, with Hannah Ensor
Spring 2016
Mode in Poems, with Natasha Sajé
Compositional Improvisation as Poetic Practice, with Kimi Eisele and TC Tolbert
Radiance: Where Is the Poem Going? with Kimiko Hahn
Finding Form: Inventions, Inversions, and Eliminations in Hybrid Construction, with Khadijah Queen
Lyric Complexity: A Craft Class, with David Baker
Oracular Writing: Transduction, with Annie Guthrie
Fall 2015
The Telling Itself: Illness Narratives as Healing and Craft, with Katherine E. Standefer
The Art of the Chapbook, with Joni Wallace
Moving with the Body of the Text: A Translation Workshop, with Rebecca Seiferle
Climate Change & Poetry, with Eric Magrane
Intertextual Poetics: Writing Into and Through Texts, with Kristi Maxwell
Summer 2015
Parent/Child Writing Summit, with Mason Gates
Clarity Demystified: A Poetry Workshop, with Christopher Nelson
Cut to the Chase: Creating Plot in Fiction, with Ted McLoof
Dislocating the Prose Poem: A Generative Workshop and Survey, with Jamison Crabtree
Shaping Text with Letterpress, with Amanda Beekhuizen
The Art of Research: Collaging the Personal Essay, with Aisha Sabatini Sloan
The Fact of Fiction: Turning Life into Story, with Ted McLoof
Spring 2015
The Poem Sequence, with Rebecca Seiferle
Animals in Poems: Reading and Writing Poems of Creatures Real and Imagined, with Simmons Buntin
Aligning Structure in Ecopoetics, with Sherwin Bitsui
Where I'm From: Mapping the Geography and Topography of Our Homelands, with Lisa O'Neill
Reclaiming Women's Writing, with Annie Finch
Rhythms of the Spirit, with Annie Finch
Fall 2014
The Parent-Child Summit, with Mason Gates
Oracular Writing: Foraging, with Annie Guthrie
Poetry and the Photograph: Ekphrasis and Beyond, with Samuel Ace
Finding the Fragment in the Complete Thought, with Thomas Sayers Ellis
Summer 2014
Conventions of Short Fiction, with Ted McLoof
Imitation: From Faux to Freedom, with Christopher Nelson
Choosing a Voice: Making Letterpress Posters, with Amanda Beekhuizen
In the Silence a Collective, Maximally: Erasure and its Ghosts, with Farid Matuk
Short Poems, with Zachary Schomburg
Spring 2014
Line by Line: A Close Reading Workshop, with Sarah Kortemeier
The New York School of Poets, with Will Cordeiro
The Autobiographical Eye, with Beth Alvarado
Bloodstone Quarries of the Spleen, with CAConrad
The Interior Journey: Reading and Writing as Spiritual Practice, with Fenton Johnson
Fall 2013
Craft of Poetry, with Sarah Kortemeier
Ekphrastic Poetry, with Joni Wallace
Robert Duncan: Circles of Influence, with Charles Alexander
The Craft of Fiction, with Karen Brennan
Hybrid Writing: Crossing Prose with Poetry, with Brian Blanchfield
Summer 2013
Surrealist Writing, with Matthew Rotando
Poetry in Letterpress Print, with Alice Vinson
Writing Your Gods and Demons, with Christopher Nelson
Spring 2013
Oracular Writing: Mapping, with Annie Guthrie
Poetic Prose and the Prose Poem, with Barbara Henning
A Weekend of One's Own, with Pamela Uschuk
Poetics of the Body and Disability, with Lisa C. Cole
Poetry in Bloom, with Simmons Buntin
Writing at Degree Zero, with Norman Fischer
Listening to Sound Poetry, with John Melillo        
Fall 2012
Correspondences, with Brandon Shimoda
Constraint-Based Writing, with Kristi Maxwell                                               
Master's Level Poetry Workshop, with Barbara Cully                              
Poemfilms and the Moving Image, with Annie Guthrie and Jonathan Van Ballenberghe    
Happy Accidents: Improvisation for Writers, with Sarah Kortemeier
Mixed Media Artist's Books: Working, with Text with Beata Wehr               
Postmodernism as Poetic, with Michael Rerick